ABOUT US
Shane M. Spells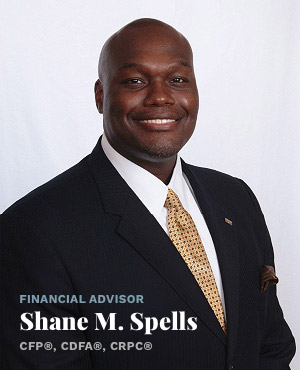 OUR OFFICE
ARTAAD Financial
128 Tommy Stalnaker Drive
Suite 300
Warner Robins, GA 31088
PHONE 478-333-3790
FAX 478-333-5043
Shane M. Spells is the founder of ARTAAD Financial. He offers his clients more than 20 years of financial services, retirement planning, and investment management experience. Shane began his career, after attaining an MBA from Mecer University and Economics degree from Rutgers University. He later joined UBS Financial Services after a successful stint with Merrill Lynch. He then joined SunTrust Investment Services, Inc., where he remained for more than 12 years.
Shane has earned his professional designation of Certified Financial Planner, CFP® and Chartered Retirement Planning Counselor, CRPC®. Although many professionals may call themselves "financial planners," CFP® professionals have completed extensive training and experience requirements and are held to rigorous ethical standards. Shane understand the complexities of the changing financial climate and know how to make recommendations in your best interest. His experience and knowledge gives him the necessary insight for advising on the development and implementation of investment strategies to help clients address their immediate and future goals. He follows a disciplined process of assessing a client's financial situation, determining risk tolerance, forming and executing an appropriate investment plan, and regular portfolio rebalancing in order to obtain measurable results. He also consults on risk management, retirement plan, and other critical financial strategies.
By joining the national independent brokerage firm of LPL Financial, Shane has greatly enhance his ability to service client needs.
LPL Financial is one of the nation's leading financial services companies and a publicly traded company under ticker symbol LPLA. The firm's mission is rooted in the belief that objective financial guidance is a fundamental need for everyone. LPL does not offer proprietary investment products or engage in investment banking activities; this means advisors affiliated with LPL are not pressured or influenced by LPL to sell its products. Thousands of financial advisors nationwide are able to rely on the firm's tools and resources to help them provide financial guidance and recommendations to help meet their clients' needs. For more information about LPL Financial, visit www.lpl.com.
Rebalancing a portfolio may cause investors to incur tax liabilities and/or transaction costs and does not assure a profit or protect against a loss.
Education
Certified Financial Planner, CFP® Designation, CFP Board
Certified Divorce Financial Analyst, CDFA®, Institute for Divorce Financial Analyst
Chartered Retirement Planning Counselor, CRPC® Designation, College for Financial Planning
MBA, Finance, Mercer University
BA, Economics, Rutgers University
Licenses: Series 7,66 and 26 heldo with LPL Financial, Life, Health and Accidental License, Fixed and Variable Annuity License.
Past Employment
SunTrust Investment Services, Financial Advisor, 2005-2017
SunTrust Bank, Trust Advisor, 2004-2005
UBS Painwebber, Financial Advisor, 2001-2004
Merril Lynch, Financial Consultant, 1997-2001
---